Membership Appreciation Events
Because connection fuels happiness, we've created FREE quarterly events for our TWIST TRIBE Members and One Year Memberships to join us to connect and breathe (and laugh … a lot!) — from Glow Yoga to Seasonal Balancing Flows to Holiday Stress Relief to more!
#twisttribe!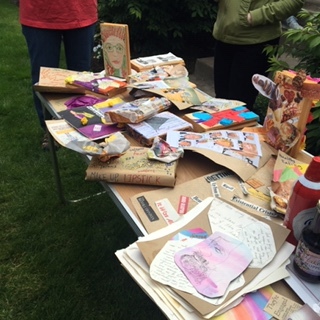 Collage & Release Mixer - July 24th
1. Create a collage of anything weighing you down: bills, parking tickets, social media, politics, health issues, judgment - NO ARTISTIC EXPERIENCE NEEDED!
2. After we collage, we'll have a fun and festive ceremony to let the bad vibes go and look into the future with a clear mind!
3. Mix, mingle and get to know other Twist Tribe members!
RSVP to Sonia to save your spot
NEXT EVENT:
2019 Spring: 3 Health & Wellness Books Demystified
Sun., March 3rd from 11 - 12:30PM
We read the books, sampled the recipes and now we'll share what we learned with you.
+ "Medical Medium" by Anthony William
+ Liver Rescue" by Anthony William
"How Not to Die" by Michael Gregor
Join Sonia for take-aways from each book, samples of our favorite recipes, and discussions of some of the key ideas. We'll also enjoy an easy digestive-stoking restorative yoga flow.
RSVP to sonia@twist-yoga.com
Limited to 28
Past Member Appreciation Events
2018 Winter - Foot Reflexology
Join Sonia for a fun and informative learning opportunity to learn how to use essential oils and reflexology to relieve some of those aches and pains we all feel this time of year.
2018 fall into balance
The seasons are changing and sometimes, we can feel a bit off balance.
We've partnered with Cynthia Pedraza for our Fall Member Apprection event to show our gratitude to our Monthly Twist Tribe Members (all members on our monthly unlimited autopay and our 5 class auto-renew)
Join us for an evening of sweet flow, self-care, custom blended oils, and a guided crystal meditation to help balance the chakras as the seasons change.
There will be surprises along the way, take-aways and a special thank you gift for all.
2018 Spring INTO Glow Yoga!

Join Stephen Brown for a super fun Friday night Yoga Glow class! With glowing body paint, black lights, and groovy music, we'll get our funk on.
What a fun night with glow paints and black lights!